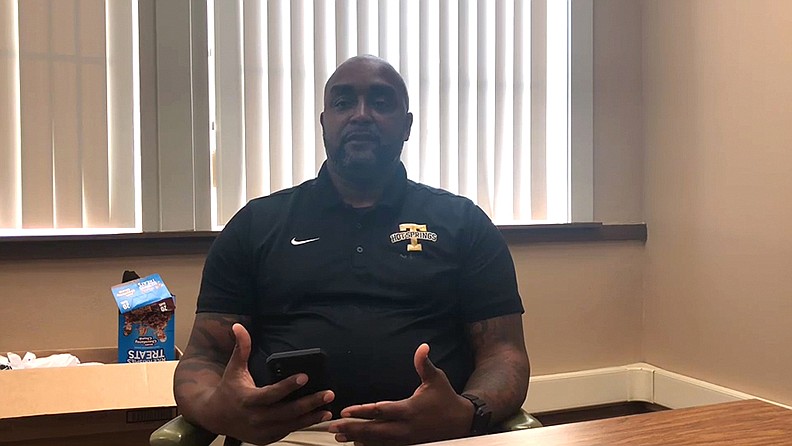 Carl Seymour, the Hot Springs School District's chief institutional law enforcement officer, discusses the district's new "U Got Caught" program. – Photo by John Anderson of The Sentinel-Record
The Hot Springs School District Institutionalized Law Enforcement Team has launched a new program focused on its K-6 grade students called "U Got Caught" that is designed to engender positive interactions with law enforcement officers.
"Strong relationships with our students and families help to build the framework for student success. We applaud this creative new way to highlight acts of good character and kindness that also opens opportunities for our kids to get to know our campus law enforcement officers," Hot Springs School District Superintendent Stephanie Nehus said.
Carl Seymour, the district's chief institutional law enforcement officer, said "U Got Caught" is a new program that allows law enforcement officers to have positive interactions with students, not a situation that might typically have a negative outcome.
"They feel that police only respond when something happens, and usually with negative consequences. 'U Got Caught' is designed to hopefully improve that notion that police only respond when there's something negative happening. It's also used to build relationships with our law enforcement and our youth," he said.
"I feel very excited about this new program," Seymour said.
He said that this program benefits students because it is going to build a positive relationship between the students, law enforcement and teachers.
"When they show an act of kindness, an act of bravery or just making good judgments, and we exploit those positive things, typically, it will encourage other people to want to be a part of it, and to do the same or similar acts, in order to receive those type of praisings for positive things," Seymour said.
The program began after Seymour attended a training class, where law enforcement tries to improve their perception of how they are viewed by citizens.
"We sometimes forget that our youth are a very important piece of the puzzle in that. We felt that if you could reach your youth at an early age, especially in a positive manner, that it will build a stronger community as they get older," Seymour said.
"When people associate getting caught with the police, they typically believe that it is being caught doing something bad with negative consequences. So, we try to put a positive spin on getting caught in making it a positive thing," he said.
"It is something positive, (they) did something great and we want to shout it to the rooftops and we want to let all your friends know about it. Your parents, everybody within the school district, other law enforcement agencies are going to hear about it," Seymour said.
Seymour said he knows that this program is taking off at HSSD. He hopes to expand it throughout the Garland County area and Arkansas.
"We must think about our future. Our children are our future and we must invest in them if we expect to get something out of them in return later on," Seymour said.
Sponsor Content
Comments